CASE STUDY
GE Spares adopts low cost IoT-based sensor technology to enhance fabrication operations
Based in Northern Ireland, GE Spares specialise in the profiling, milling, forming and fabrication of abrasive wear plates and special steel products for the crushing, screening, construction, and agriculture sectors. They manufacture highly durable and precise steel products for leading OEMs, and export the products to North America and Europe. Learn more about their smart manufacturing journey.
Situation
GE Spares operate a large number of CNC, Plasma and Robotic welding machines for the manufacture of steel products. Price competitiveness and lead times are two critical parts of their manufacturing, and they operate a day and night time shift in order to meet the high demand from customers. Finished steel products range from 4mm to 6mm in thickness and orders vary from bulk repeatable items to smaller bespoke items.
Reducing power consumption had become a critical factor in business wide cost saving and also reducing the carbon footprint of the company. The company approached the Smart Manufacturing Data Hub to help them explore how data from their shop floor could be captured and analysed to monitor and improve their operational efficiency. Due to the dynamic nature of their manufacturing, GE Spares also wanted to explore how data from their machines could support decision-making around purchasing, planning and costing of orders.
Solution
GE Spares undertook a project with The Smart Manufacturing Data Hub to monitor power on their plasma cutting machine. The low-cost sensor solution enables power consumption data to be continuously collected in real time and consolidated into a single, easy-to-access platform.

The solution uses a split-core current clamp that clips around the cable which allows for a non-intrusive installation. The clamp is connected to a multifunction meter that collects the data and sends it to a microcontroller through an RS485 module. The data are both stored for further analysis and displayed live on a dashboard. The microcontroller is connected to the local network and any devices on the same network, such as an office computer or a mobile phone, can access the dashboard.

Since the data are live, immediate action can be taken when an unusual energy spike is detected. Historic information is also displayed to show how much energy is consumed throughout a day, week, and month, indicating trends over time.
Successes
The power monitoring solution allowed GE Spares to immediately establish a baseline on their plasma cutter and identify any inefficiencies or wasteful practices that may be increasing their energy costs. A dashboard was developed to illustrate machine utilisation, which can be analysed by shift, day, or week to identify trends and opportunities to increase productivity.

Using the dashboard, GE Spares can determine the approximate cost to run the machine based on their varied time of use (tou) tariff and further analysis can be carried out to calculate the energy used to manufacture each product.

With one week of data provided, the SMDH data science team were able to provide a machine utilisation % (time on vs time off) over a variety of time horizons. The dashboard reflects that during the time frame analysed, they reached a machine utilisation of 42%. When more data becomes available, the SME will also have greater visibility of utilisation by week, shift and day.
Average % on/off by weekday for the entire date range: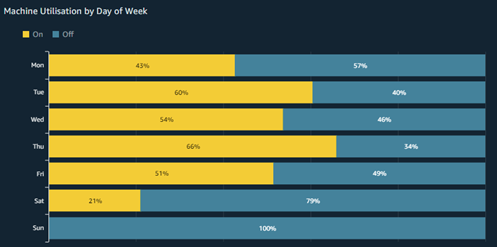 This case study demonstrates the potential of how a low-cost IoT device and data analytics can support manufacturers to better understand their energy usage and optimise their production process. Power monitoring on machines can also be used to support product costing, at a time when energy prices continue to fluctuate.

GE Spares energy data can also be viewed in real-time using the SMDH platform to detect unusual fluctuations or spikes in power, providing early detection of downtime. Monitoring machines in this way can help the company to predict when assets may fail and schedule maintenance in advance at a more convenient time.
Sum of cost by shift for the entire date range:
When more data becomes available, the company will also have greater visibility of utilisation by week, shift and day of the week.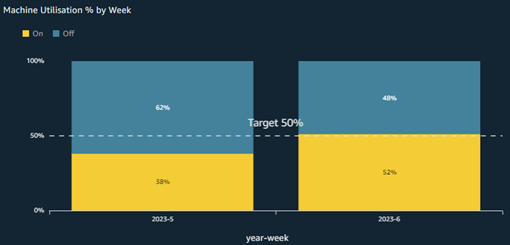 Interested in learning more?
Get in touch to find out how the Smart Manufacturing Data Hub can help your manufacturing business