CASE STUDY
Silotank embraces Smart Manufacturing
Silotank is a leading manufacturer in the UK and Ireland for chemical, liquid and drinking water storage tanks, bunded storage tanks, process vessels, pressure vessels and environmental systems. Learn more about their smart manufacturing journey.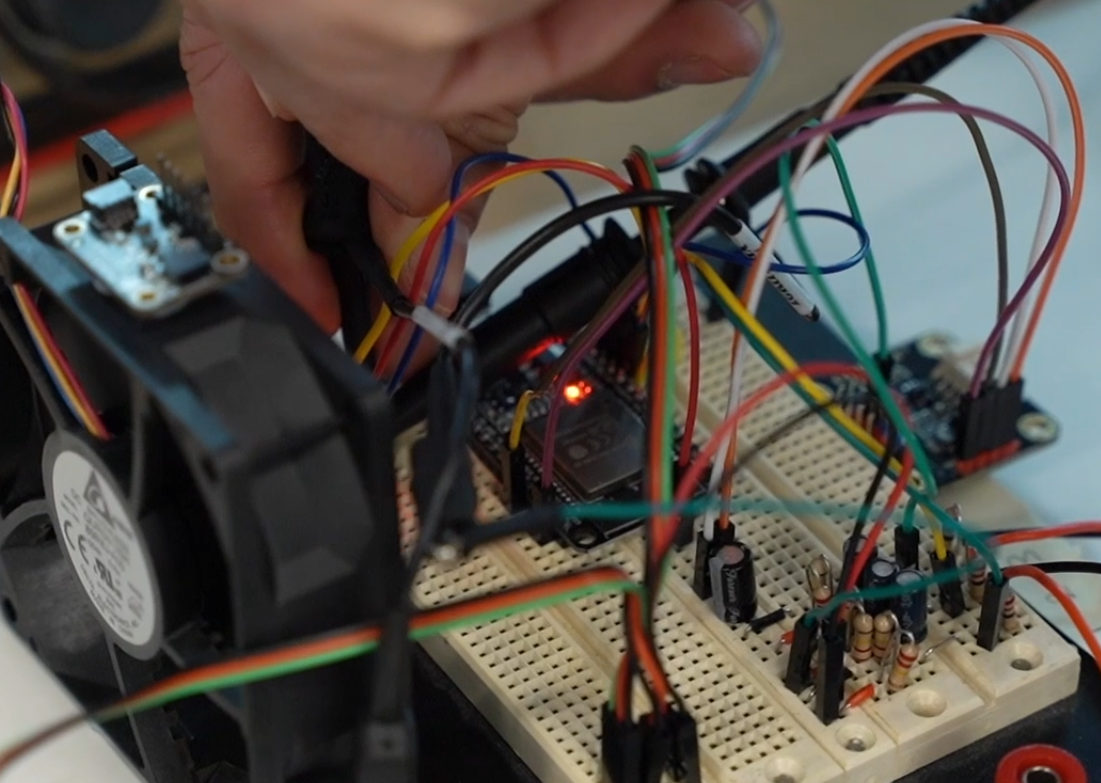 Situation
Keeping track of a manufacturing environment is often a challenge. Air quality can be a concern, and it is difficult to monitor without an adequate system in place. Non-compliance with workplace air quality regulations could also present liability to an employer. In the case of Silotank, the company works with a variety of plastic materials such as HDPE, Polypropylene, PVC, PVDF, ECTFE, MFA and PFA and fiberglass. Processing these materials unavoidably releases tiny particulate matter (PM), undetectable by the human eye, into the air. These "inhalable particles" are linked to a variety of health risks including respiratory irritation, coughing, and breathing difficulties as well as irregular heartbeats and even death. The occurrence of PM can be reduced by using appropriate PPE, or through other interventions such as air filtration systems or improvements in ventilation. Other manufacturing environment monitoring concerns include:
Bulk fluids, such as fuel, or coolant are often stored in opaque containers which can be difficult to visually monitor and therefore to maintain adequate levels;
Modern pressurised heating systems can be complex and difficult to maintain;
Safety doors should always be kept shut to minimise the chance of an accidental fire spreading.
Silotank asked the SMDH team to explore if digitalisation could help them to better monitor their manufacturing environment.
Solution
A solution was specified and deployed for Silotank using Industrial Internet of Things (IIoT). An array of Air Quality (AQ) Sensors have been deployed in the manufacturing area and offices. These AQ Sensors detect PM which is 10uM or less (PM10), measure the presence of volatile organic compounds (VOC) and also monitor temperature, humidity, barometric pressure, carbon monoxide and dioxide content. An AQ sensor can ensure compliance with air quality regulations.
Battery-powered fluid level sensors provide wireless, automatic alerts on low fuel levels or unexpected drops in level. Silotank has deployed these sensors to monitor kerosene and diesel fluid levels in their fuel tanks. Liquid pressure sensors have been directly plumbed into the heating system. These now indicate if the pressure readings are within a safe range and can give an early indication of faults which may not be noticed otherwise. Fire doors are now monitored by wireless, battery-powered door sensors. The door status can easily be discovered - whether the door is open or closed, and how often the door has been used within a given period.

All of the sensor data are accessible from anywhere via a secure online dashboard which displays the sensor data in real-time. The dashboard can raise an alarm if certain sensor values go above or below safety thresholds e.g. temperatures outside approved levels or dangerous PM concentrations.
Successes
Through the Smart Manufacturing Data Hub (SMDH), Silotank accessed support to develop IoT in their factory.

As air quality can be a concern, Silotank has implemented an array of Air Quality (AQ) Sensors in both their factory and their offices. This AQ sensor provides accurate measurements that can be used to support compliance with air quality regulations.

For bulk fluids, the inclusion of battery-powered fluid level sensors can provide wireless, automatic alerts on low fuel levels or unexpected drops in level - which could indicate a fault or potential theft. Silotank has deployed these sensors to monitor fluid levels in their fuel tanks to tackle these issues.
A functioning heating system should have adequate pressure to ensure that heat is properly distributed and that all areas are kept at an appropriate temperature. This has been achieved at Silotank by using a liquid pressure sensor directly plumbed into the heating system when enabled them to identify a heating fault just a few days after installation.

The sensors have allowed Silotank to understand and monitor their factory environment while also assisting in maintenance requirements, for example through fuel level tracking and heating pressure monitoring. Benchmarking can also be achieved using captured data.
Interested in learning more?
Get in touch to find out how the Smart Manufacturing Data Hub can help your manufacturing business