CASE STUDY
North West Medical streamlines production with downtime capture technology
Based in Campsie, Northern Ireland, North West Medical produce PPE for the Healthcare, Hospitality, Retail and Education sectors. They are one of a few manufacturers in the UK to produce surgical masks in an ISO Class 8 clean room environment.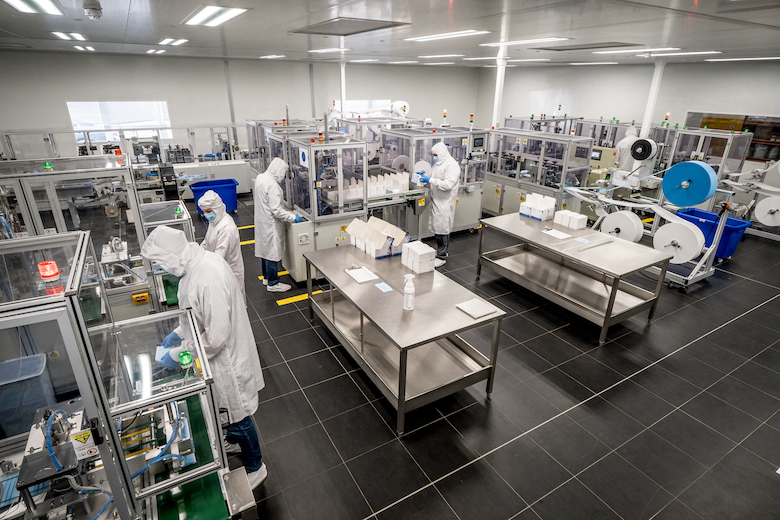 Situation
North West Medical manufacture millions of medical grade surgical masks every year. Due to the high volume of products, machine uptime is critical as every minute that production is stopped could mean that an order was delayed which could impact negatively on the business. There are a range of factors which could lead to machine downtime including breakdown, maintenance, and changeovers. The clean room production environment adds an additional challenge as access to factory needs to be kept to a minimum so that strict quality procedures can be maintained.

To manage and reduce machine downtime a reporting system is in place to record incidents on paper. While this process allowed them to better understand what their machines were doing and identify common reasons for downtime, there was a 12 to 24 hour delay between actual downtime and analysis, therefore management relied heavily on experienced operators to resolve incidents. The management team were using a manual process to retrospectively monitor daily production levels and machine performance, however the data input and daily analysis could be time consuming. They also recognised that recording the period of machine downtime manually may not have been 100% accurate.
Solution
North West Medical partnered with the Smart Manufacturing Data Hub to implement a downtime capture system that would allow them to remotely monitor machine performance and identify opportunities to reduce downtime. By digitally recording machine downtime they could create more transparency in the production process, identify what the biggest downtime factors are and work to reduce these issues.

A light sensor was installed on the machine to accurately record stop and start time. If the machine was stopped for more than a predetermined period of time, this alerts management that further action is required. Software was installed on a server and tablet beside the machine where the operator could easily select from a menu of options to record the downtime type. The downtime data were displayed on a dashboard, providing real-time visibility on machine performance and production output. The dashboard is displayed on digital screens within the cleanroom and office space, to allow all members of staff to be aware of key downtime factors, KPIs and performance in real time.
Successes
The downtime capture system has allowed North West Medical to identify several key areas for business improvement using a simple software and tablet solution. By capturing machine downtime data and displaying it in real-time, the team can now take corrective action to reduce downtime and improve overall efficiency. Managers can access the production dashboard remotely and manipulate the data, which has reduced the level of time required for analysis. The operations manager can use the data to determine staff levels and set machine maintenance schedules, reducing the impact of both unscheduled and planned downtime.

Overall, the downtime capture system has enabled North West Medical to improve machine output, increase efficiency, and ultimately have more control over their production process, while maintaining strict quality control guidelines.

The partnership between North West Medical and the Smart Manufacturing Data Hub has enabled the company to tackle a key challenge in its manufacturing process, improving machine uptime and productivity. By leveraging the power of data-driven insights, the company is well-positioned for continued growth and success.
Interested in learning more?
Get in touch to find out how the Smart Manufacturing Data Hub can help your manufacturing business